Have you linked up yet to be a part of my
100 followers celebration
? This is my third feature as part of my celebration, and I'm quickly running out of blogs to feature. I want YOU to be next.
Today's feature is
KellNell @ Owl Inspire You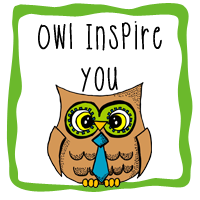 I'm a little overwhelmed by all the awesome ideas on this blog, wow!
1.
Smellies
Instead of giving kids stickers for recognition when she sees them doing something good. She doesn't say what flavour/scent she is using, so the kids love to smell the backs of their hands to try and guess which one she used. There are literally hundreds of choices to buy, and you can buy them almost anywhere for very cheap. You're paying less than you would for a pack of stickers, and the tube will last for YEARS. I'm definitely going to try and remember this management trick when I teach again.
I like how cute her behaviour report is to send home with students who landed on red in her system.
I've seen versions of this resource before, but I love that she's using a solid colour ball instead of the beachball I've always seen before. Students don't know what they have to do for their assignment until they catch the ball. Brilliant!
She has some really good ideas here for how to get her students to actually USE their new vocabulary words. Try Tally-HO. every time a student says it, you get a tally mark on the board.
She plans on this year putting up vocabulary words throughout the year on her classroom tree. She started the year off with words on apples. She's using it in her centres with her class. There are really a LOT of things you could do with a tree in your classroom.
I hope you're the next blogger I feature!