I'm celebrating my quickly (for me) raising number of followers with a new weekly feature. If you'd like to be included, please fill out this little survey.
HERE
. Please for your blog name include a link to your blog to make it easier for me to find you, thanks!
I will share as part of these features a link to your blog, your best TpT product (according to you), your most popular freebie and approximately 5 of my favourite ideas I find on your blog.
The sixth up?
Teaching Times 2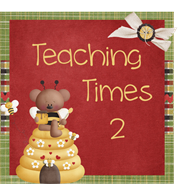 Kristy and Misty are a pair of lovely ladies from Tennessee.
They say that th
eir best TPT product is
Hundreds Chart Hidden Picture - Wizard of Oz
which they sell for $3. I think this really cute. I may buy it in the spring when we do the numbers to 100 unit in math.
They also believe their most popular freebie is their
Fact
family practice sheet. It's a cute game to help students figure out all the ways their numbers make the family.
Now onto my favourite finds from their blog:
1. I wish I thought of this back when it was
Thanksgiving in October.
What a cute way to practice graphs, vote, and talk about taste for Science all in one little seasonal activity!
3. What a cute classroom reward,
warm fuzzies
! And they're so easy to make. too. GOT TO ADD THESE to my list.
4. We're currently doing a short Dr. Suess author study, so I find this
Bulletin board
cuter than cute!
5.
Macaroni Snowglobes
? Awesome!
I think I have to keep watching this blog, especially for Bulletin boards, these are awesome!
Thanks for letting me feature you!