I'm celebrating gaining followers again on BlogLovin. As of when I was writing the first feature I had 77 followers.I'm now up to 102, and over 1000 on my Facebook group! Blogger says I have 112, but no one uses that to follow anymore, so it's not a real number, is it? Plus, I don't actually have ANY idea how many followers I or any of you have because not everyone moved to Bloglovin', some of us chose Feedly or another feeder...
But I digress...
I'm celebrating my quickly (for me) raising number of followers with a new weekly feature. If you'd like to be included, please fill out this little survey.
HERE
.
I will share as part of these features a link to your blog, your best TpT product (according to you), your most popular freebie and approximately 5 of my favourite ideas I find on your blog.
Ninth up?
Lovely Literacy and More
Brittany is an awesome Blogger originally from Mississippi, but now calls Canada home. Hiya Neighbour! She's in Alberta. She's teaching Kindergarten this year, but just found out she's moving up to grade 4 in the fall. Give her all the back up you can folks!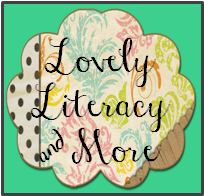 Brittany says (as of when she filled out my form) that her best selling product on TPT is her Sight Word Readers-PrePrimer Dolch which I have to say looks pretty cute. Great for Kinders and for review for my firsties at the start of the year next year! It retails for a very reasonable $7 considering you get a sight reader for each of the first 40 pre-primer words!
She
believes
her most popular Freebie is her
Ocean Alphabet
which as of my typing this has 484 downloads. It features
some
really cute ocean animals and some letter sequencing. Hmm.... I just may have to use this!
And now onto the ideas I found while searching through her blog.
Note to bloggers, it is SUPER hard to find JUST five in some of your blogs!
1. So so cute, her kids have started BEAN counting! I
remember
the red and white beans my own Primary and first grade teachers used with us! It looks like in this picture
the
kids are actually colouring the beans themselves, and that is awesome!
2. Her class did Christmas around the world like I did, but her ideas were awesome! When learning about Slovakia her class made boots, left them outside the classroom door and when they came back in their "boots" were filled with Candy!
3. Math around the room! I love how they went around to find numbered ten frames and had to record the number it represented. I can use that as a review with my class next week!
4. When they studied the letter Mm she created this awesome cow for her class to "milk"
5. I've seen lots of wishlists at open houses over the years for donations from parents, but I really like this fishin' list!
So those were my favourite ideas I find this time, but you should definitely check her out and see her stuff! I'm jealous!