Welcome to the main post for the Booking across Canada party. On this page, you will see links to the blog pages of each confirmed participant if I could find their blog.
As I am working on the day of the party, I will update the list with direct links to the posts on Sunday, but you should be easily able to find their posts as they go live.
At the bottom half of the page you will find my contributions to our event.
To the bloggers participating, please add links to your posts in the comments incase my reader is not working to make it easier for me to find your books and freebies.
Participants:
Newfoundland and Labrador:
None Confirmed
Mrs. R. Mathis @ The Adventures of an Occasional Teacher
Manitoba: Sara Kerr @
And now for my chosen book:
How Summer Came to Canada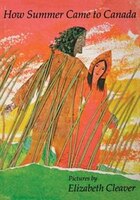 affiliate link
Game/Phys. Ed:
Do you know how to play red light-green light? In this version, students try to get to the other side when Summer is called, but must be frozen when Winter is called. I call this Summer-Winter, lol.
Art
Throughout the book students can see the artist didn't draw or paint the pages, but instead used torn paper and bits of nature. So for this activity, students will use a variety of media to create a picture.
Take a large sheet of construction paper/art paper and fold in half. On the top or bottom of each side print clearly either Summer or Winter.
Have students collect twigs, and glue one on each side.
On the side labelled Winter, students may add additional smaller twigs to show the branches of the tree. Perhaps use cotton balls for snow in the trees and on the ground? Use torn white paper to make snow drifts on the ground.
On the side labelled Summer, students may glue bits of leaves torn, or torn green papers to show the tree in summer. Also, colours may be added to show flowers.
Language Arts
Have students take the part of Winter or Summer and write a letter to the other (or Glooscap) and tell them about what the land is like in their absence.
Science
Have students put the four seasons in the medicine wheel, and draw arcs around the outside to show when Summer and Winter are present in the land.
***********************************************************
If you would like me to review other books for kids please leave a comment. It must be useful to either teachers or parents of children age 4 to grade 2.
Want to find awesome resources for your Early Childhood Education classroom?
Visit
Reading With Mrs. D on Teachers Pay Teachers
Facebook
Twitter
Pinterest

Today's featured resource:
Help support Reading With Mrs. D and our family. Join
Swagbucks
and we can both earn money to spend on our kids!