A good friend, after noticing my post about PLCs on
Facebook
, suggested RTI as something else I should look into.
It wasn't until I did an image search (my preferred way to do an initial search, as I love images), that I realized I had already learned some about these a few years ago when I attended a conference from
MCEC
.
The presenter had shown us two different pyramids on the projector, and similar ones to these showed up in my image search.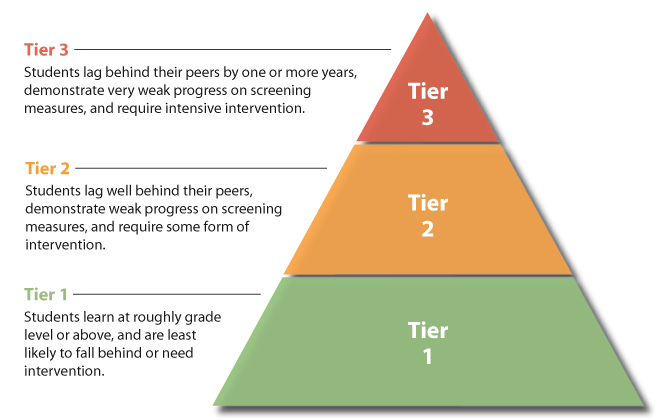 The above is the typical intervention pyramid in schools. Ideally most students have no need to progress beyond Tier 1.
We were also shown an inverted pyramid, which for many of us was the sad reality of the poor students in our schools. This pyramid (which I can't find an image for), had Tier 1 having few students, and Tier 3 having many, not an ideal situation for ensuring our students receive the intervention the deserve.
So What exactly is an RTI?
An RTI is a Response To Intervention.
It's not simply giving students resource and other interventions, it's similar to a PLC in that we look at the results of each intervention, discuss what has happened, and make new changes to continue in the students recovery.
Check out
RTI Network
for detailed information.
RTI is a multi-levelled intervention program, with usually THREE tiers of students and their risk factors. Some pyramids I saw in my image search chopped the students further into FOUR tiers, but from what I can learn, most places divide students only into three tiers.
Please note, there is no one right way to do an RTI in your school, as each school has different needs.
The bottom tier,
TIER ONE
, is the most populated by our students. It contains the students who are least likely to need intervention, are mostly on track to attain their grade level expectations for the year. Even though these students have the least need for intervention, they are tested regularly and their scores examined to see if they need additional intervention and/or the need to be placed within Tier two.
TIER TWO
contains a smaller amount of our students. These students are found to be struggling in one or more academic or behavioural areas, and are placed in this tier to ensure they get additional intervention as needed to prevent the movement to Tier three, and hope for a return to tier one. If they continue to show a lack of progress in this tier after a set amount of time, they are considered to be a part of TIER THREE so they may receive the highest level of intervention as needed. Tier Two is for targeted Interventions.
TIER THREE
is the level at the peak of the typical pyramid, and contains the students who are in need of intensive interventions because they failed to show progress in tier two. At this level their interventions are individualized or their own particular needs. Students in this tier may now be considered for special education and resource if their targeted intervention does not help.
Do students know what tier they are part of?
This depends on what method of using this program your school decides to use, but I personally don't think students have any need to know what tier they or their peers are a part of. I believe it's only important for teachers to be aware of where their students fall in their classroom so they can correctly differentiate their instruction to suit their students needs.
Do you use RTI at your school to ID students needs?
***********************************************************
If you would like me to review other books for kids please leave a comment. It must be useful to either teachers or parents of children age 4 to grade 2.
Want to find awesome resources for your Early Childhood Education classroom?
Visit
Reading With Mrs. D on Teachers Pay Teachers
Facebook
Twitter
Pinterest

Today's featured resource:
Help support Reading With Mrs. D and our family. Join
Swagbucks
and we can both earn money to spend on our kids!