My favourite author since I was a little girl has been Robert Munsch.
Robert Munsch
actually visited my school when I was about 8 years old. It was our book challenge month, and every year a bunch of authors visited the school, and every grade got to meet at least one of them. Mr. Munsch was definitely my favourite! He read to us a couple of his books. I believe he read The Paper Bag Princess and Mud Puddle? I'm not even sure anymore since I've read them all a million times. EACH.
Helen Reviewing The Paper Bag Princess
We have QUITE a few of his books on our shelves, some survived my childhood and sharing them with my two younger sisters, but some are new copies replacing well loved books. Plus, there are SO many NEW books that hadn't even been written yet in the 80's! (I know, I'm admitting how old I am, lol)
My daughter of course loves these books too, and so for her THIRD review for
Reading With Mrs. D
, we chose the empowering Paper Bag Princess. If you haven't read this yet, you absolutely HAVE too.
Previous Reviews:
RED IS BEST by Kathy Stinson
Hug Me by Patti Stren
So which is the BEST book by Robert Munsch?
Like all questions like this, the answer is different for ALL of us.
But, I'd like to share with you the Favourite Books in our House
1. The Paper Bag Princess
Obviously it's one of the best! This fiery princess is headed to save her prince and be the hero. When he tries to make her change, she doesn't defer to his wishes, she tells him off. Love it! It's a great lesson in female power. To my daughter she doesn't quite get THAT lesson from the book yet. She notices that Prince Ronald is being MEAN to Princess Elizabeth in his refusal to be saved. To my daughter, this is a lesson in bullying.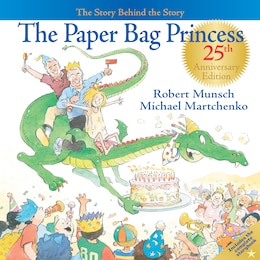 2. Love You Forever
The Story BEHIND this story is one of the saddest for a parent, and yet it's a forever favourite.
Now, there is a song repeated MANY times in this book, so I HIGHLY recommend visiting the website and
listening to Robert Munsch read this book
so you get the tune perfect. My daughter can sing this short song easily, so can you. This book teaches you that no matter what, and no matter how old you are, your parents will always ALWAYS love you.
3. Angela's Airplane
Back in the days before increased airport security, it was entirely possible to wander around the airport and make your way accidentally onto the tarmac or the wrong plane. In this book, Angela has a bit of a problem with NOT pushing buttons, as in, she Can NOT resist pressing buttons, and ends up accidentally flying an airplane. It's an exciting book as you hope that she manages to land the plane safely and get back to her dad.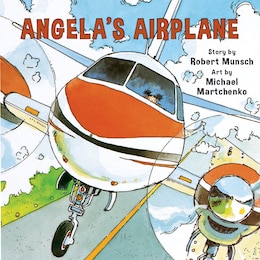 4. Stephanies Ponytail
This book wasn't released until I was a teenager, but who can't relate to Stephanie's desire to be different from everyone else? Most of the time, I was happy to melt into the crowd, but I completely get her desire to stand out. It's an important lesson for our kiddos that they should want to be different. I think that we could also use this book as a jumping off point to teach our kids about leadership.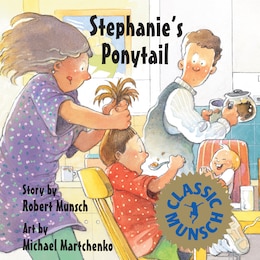 5. Something Good
We haven't read this one as many times, but I love how it ends. In this book your little reader will learn that they are important and worth something to their parents.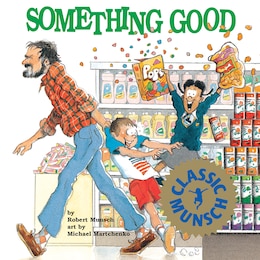 It's really hard to choose just five books, I could have easily chosen ten! Close competitors for spot #5 were Put Me in the Book, Mud Puddle, Purple Green and Yellow and Look at Me.
Your Turn!
Please comment Below the Name of YOUR favourite Robert Munsch book and Why.
I may feature your answer in a future post.
***********************************************************
If you would like me to review other books for kids please leave a comment. It must be useful to either teachers or parents of children age 4 to grade 2.
Want to find awesome resources for your Early Childhood Education classroom? Visit
Reading With Mrs. D on Teachers Pay Teachers
.

Today's featured resource:
Help support Reading With Mrs. D and our family. Join
Swagbucks
and we can both earn money to spend on our kids!